Danny and the Nightmares
Most people familiar with Daniel Johnston heard the legend first. They heard that he is manic-depressive. Erratic. They heard that he set his mattress on fire or that he forced his father to crash a plane. So often his mental state overshadows his music that the unstated implication is that the music is the result of the illness. As ever, the reality is more complex than the water cooler synopsis.
Johnston first began recording in his parentsí basement in West Virginia. He had just quit his job at an oil refinery and dropped out of the local branch of Kent State, where he had been taking art classes. He decided it was time to pursue art full time. He set up shop in the Johnstonsí basement, where he made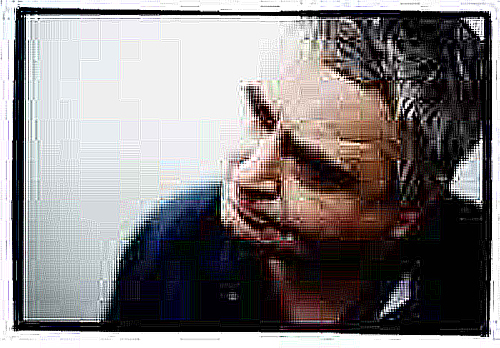 drawings and hammered out songs on the family piano nonstop. To document these songs, he set up a boom box and made the lo-fi recordings, which eventually became Songs of Pain. Johnston fans know the sound immediately--full of tape hiss and dropouts that make his warbly voice even shakier. But these early songs are much more traditional than later Johnston work. The themes are the sameólove, sex, and religion--but the structure is much more the product of his influences: pop and gospel. But aside from the recording quality and Johnstonís acquired-taste singing, these are the most accessible of Johnstonís songs. But the basement paradise couldnít last forever.
In 1983, Johnstonís brother called, offering a place for Daniel where he could begin to put his life back together. "I don't know what prompted it exactly," says Dick Johnston, "except that
I knew that from the family's perspective, he just couldn't find a place in this world to function and be productive. So we were all trying to help. My offer was to have him live with us in Missouri
City and work at AstroWorld for the summer--maybe drawing caricatures." Johnston would have stayed in West Virginia if he had his way, but he felt pressure from his familyófrom society--to become productive so he moved. One problem, though: his brother didnít have a piano.
"He got mom to buy at $5 chord organ (cheap dime store stuff) at a garage sale, but lo and behold--she gave it to a grandson--also living in Texas," says Dick Johnston. "So as soon as he came to Texas, he checked with his nephew and asked to Ďborrowí that chord organ. And he set to work in our garage in Missouri City." It was a typical hot, Texas summer and in his brotherís garage, Johnston recorded most of what would be Yip/Jump Music when he wasnít working at AstroWorld. Once again, he used a boom box. But these songs bore less of Johnstonís influences than the West Virginia tapes. There was far more Daniel in these mysterious sounding recordings. These are the songs that many identify with Daniel Johnston. But this, too, was a short lived period and he was soon moving on, this time to San Marcos to live with his sister, Margy.
Johnston couldnít reconcile what he wanted to do and what he felt like he should do any better in San Marcos than in Missouri City and soon he literally disappeared. "We had virtually no idea where he was until five months later when someone from a church in Colorado called mom and said they saw Danny at church in Colorado Springs," says Dick Johnston, "He was with a traveling carnival." According to Dick Johnston, running away to be a carnie might be every boyís idea of a good time, but it was the opposite for Daniel. With the carnival, Daniel had no time or place to write songs or draw pictures. "Art and music pours out of Dan--faster than any number of fans will ever be able to listen to or sort through," continues Dick Johnston, "This compulsive drive to express creatively marked him to be a kind of youthful outcast--nothing else was important to him." So he had to get back to a place where he could create.
Johnston broke away from the carnival and ended up living in the back of a church in Austin and working at McDonaldís. It was the beginning of another creative period. He made tapes and handed them out to anybody that would take one. One day he handed one to Kathy McCarty who was then playing with Glass Eye, the celebrated 80s/early 90s band that lurked in the periphery of Austin's New Sincerity movement. "He came to Glass Eye shows quite a few times before he actually approached me, but it was at a Glass Eye show that he did first introduce himself," says McCarty, "He gave me a copy of Hi How Are You and asked if he could open for us."
McCarty didnít listen to the tape immediately, but when she ran into Johnston again he asked her what she thought of the tape. "He came to the very next Glass Eye show and asked me how I liked his tape. I felt like the biggest shitheel in the world because it had been a month and I had totally forgotten to listen to it, ever. And I really had meant to because he seemed so intense and innocent, so I told him I really liked his tape and promised him he could open for us, without ever actually admitting that I hadn't listened to it." After her encounter with Johnston, she immediately went home and listened to the tape to see what she had gotten herself into. McCarty was an instant fan. "I was totally floored by it's greatness and genius, she says, "I played it for the rest of Glass Eye before our next rehearsal, and the feeling was universal--Daniel was a talent we really wanted to help in any way possible."
"Everybody that was interesting in the scene was at that first show," says Brian Beattie, current Johnston producer and then member of Glass Eye, "there was nothing like that then. He would play three songs and then escape out a bathroom window."
Austin loved Daniel Johnston. By the time MTV's The Cutting Edge (sort of a predecessor to the much longer lived 120 Minutes) did a profile of Austin's music scene in 1985, Johnston was the belle of the ball. But that appearance was really the beginning of the end for both Johnston's innocent outsider recordings and what was arguably Austin's last real fertile musical period (if you spend enough time in Austin, you can still hear old scenesters go on about the day MTV came to town). But Johnston was soon headed for New York.
"You know, I really don't know or don't remember why Daniel went to New York that time. I know he was crazy then though," says McCarty, "I think he went there to record with Sonic Youth." Whatever the reason, soon after he got there, he was living in the streets. "He was staying at a shelter and the other street people stole all his stuff," says McCarty, "Glass Eye was touring at that time and we had a show at the Knitting Factory and Daniel showed up at our show! We were so amazed to see him. He seemed to me to be in rather bad shape, he was very dirty and manic and we urged him to go home and quit living on the streets of New York City. But he was sane enough to find out we were playing and come to the show, so he wasn't as bad off as he has sometimes been."
During his stint in New York, Johnston impressed Mark Kramer, the psychedelic wizard behind Shockabilly and Bongwater. Kramer took Johnston into a recording studio and applied layers of sonic weirdness to Johnstonís songs. Kramer then released these recordings as 1990 on his own label, Shimmy Disc.
On 1990, Johnston's songs took a darker turn. The optimism of cassette recordings was all but gone. Johnston had talked about pain before, but it wasnít until 1990 that he made you really feel it. He wasnít a lovesick kid anymore; he was an adult with some real issues. "Donít play cards with Satan," he sings, voice quavering, "Heíll deal you an awful hand." You can hear in his voice that this isnít just a hymnóJohnston was really living it. And if you donít believe it, he breaks down in the middle of another gospel number, "Careless Soul," he pauses briefly but continues through the tears. And it wasnít just the religious tunes that had changed. Youíve never heard a scarier version of The Beatlesí "Got To Get You Into My Life." Johnston gives the song new meaning. In Johnstonís hands itís not an expression of innocent romantic interest, but is rather the sentiment of a stalkerónot "hey Iíd like it if you were part of my life" rather "you will be part of my life, like it nor not." Itís meaningful in a way that none of his many other Beatles covers is. He made it his own.
Soon enough Johnston was living with his parents in West Virginia again. There he recorded one more album with Kramer, the mostly forgettable Artistic Vice. Johnston had assembled a band of locals that did little for his songs.
After Vice, Johnston fell off the planet againóthis time for several years. He was in and out of mental hospitals. He had been hospitalized before, but never to the extent that he was during this period. He resurfaced briefly in 1992, heavily medicated, but the medication helped him manage to play three shows in Dallas, Austin, and Houston. But as in the past the attention was too much for him. The erratic behavior resumed and he was hospitalized again.
Johnstonís parents retired to Waller in 1991 and when Johnston returned from hospitalization he once again moved in with them. From there he began dealing with the major label feeding frenzy that he suddenly found himself in the middle ofóit seems that if Kurt Cobain wears your t-shirt on national television, you start to get phone calls. But Johnston was hardly in a state to make a big deal. "Elektra was going all out to sign Daniel even though he was in a state mental hospital," says Johnstonís then manager, Jeff Tartakov, "And Daniel had a Ďshow me the moneyí attitude. One of the things discussed between myself and Elektra was to have the A&R man show up with a wheelbarrow full of dollar bills." Presumably a wheelbarrow full of cash would have satisfied Johnstonís mistrust. Or not. After all of Tartakovís work with Elektra, Johnston hired another manager and signed with Atlantic.
Atlantic brought in a Johnston friendly producer--Butthole Surfer, Paul Leary. The result was Fun, a collection of lesser Johnston material, recorded with session musicians. Johnston was so medicated during this period that he wasnít able to play on his own album. And his singing performances lacked any of the charm of his earlier albums. There was no longer the sense of the vulnerable performer with whom the listener can identify. Many longtime Johnston fans were put off by the slick production. And Atlantic didnít know what to do with Johnstonóeven an overproduced one--and he was soon dropped from their roster.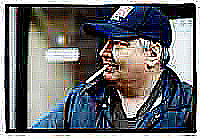 Johnston slowly began to stabilize and after a few years started writing and recording again. Johnstonís old friend Brian Beattie began hauling recording equipment and sometimes other musicians to Johnstonís parentsí house. "Heís in the same position now as when he first started," Beattie says, "He wishes he could move out." But, of course, thatís happened before with bad results.
Rejected is much less slick than Fun, showing off both Johnstonís songwriting and Beattieís musical whimsy, but it still doesnít have the spark of the boom box cassettes. Instead, Johnston sounds tired. "Heís hit and miss when he performs," says Beattie, "Not as much of his voice is chilling [like on the cassettes]. Itís hard to get that on tape because heís tired all the time. He doesnít get much physical activity and he smokes all the time so he gets tired singing. And nobody can convince him to exercise. If I get anything at all Iím pleased." The sound quality is a vast improvement over the boom box days, and Beattie has really turned up fire on the production, but this sometimes serves to further bury that vulnerable voice that is so appealing. "Daniel begs for over-the-top production," Beattie says, "He wants to sound like Queen or the Beatles or The Beach Boys. Daniel sees himself as a Tin Pan Alley pop star while others see him as a folk artist. I wish that I could record Daniel by himself, but Daniel wants instruments. So on the recordings, I try to go as far as I can with some and not as far with others, so I can have both. I ask myself ĎWill a fan who heard the cassettes love this just as much?í"
Two years have passed since Rejected Unknown and Johnston is back with not one but two releases this year.
The first of these releases is Fear Yourself a new studio album with yet another producer. This time around itís Mark Linkous, somewhat better known as Sparklehorse. Like Kramer, Leary, and Beattie, Linkous comes from a place of deep respect for Johnston. He recorded a moving version of "Hey Joe" on the second Sparklehorse album, Good Morning Spider and says that Johnstonís music, pulled him out of his own spiral. He also seems to be possessed of a genuine weirdness that differentiates him from previous Johnston producers and which makes his off-beat music emotionally, rather than just intellectually compelling. Itís won him lots of fans--for a time members of Radiohead tripped over themselves to work with him. Sounds like a great fit for Daniel Johnston, right? You would think, but Fear Yourself, like much of Johnstonís recent material, has very few intimate moments that would make it easy to love.
It starts off promising with a lo-fi song of Johnston and his guitar--just like the 80s recordings--then the instrumentation slowly builds to include Mellotron strings. But then you realize Daniel is singing "Love can save you now." Yawn. He goes on through these songs: "Love Enchanted," "Power of Love," "Forever Your Love," "Love Not Dead." See a pattern? This is nothing more than a collection of torch songs. Itís not like Johnston hasnít written love songs beforeóheís written lots of themóitís just that he used to write about other things.
Itís not that the album is bad; itís just not what somebody who fell in love with those early cassettes wants from Daniel Johnston. We donít want to confine Johnston to the role of over-earnest teenager for perpetuity; we only want him to inspire us again. Frankly something that isnít filled with clichťs would be fine. And itís not just for our sake; the clichťs are honestly no good for Daniel. There is in Daniel Johnston the constant threat of sinking into self-parody ŗ la Wesley Willis or any number of artists that are saddled with the burden of the mental illness tag. Fans of Willis go to his shows to laugh at the funny man who head-butts audience members. They turn his performances into a freak show. Nobody should have to endure that kind of treatment for a living. So itís in Johnstonís best interest to connect with his audience as best he can. Really it is.
The difference between now and then is all the more striking when you listen to the second of Johnstonís recent releases: a first time on CD release of his very first cassette recordings: Songs of Pain and More Songs of Pain. Here you get the first of many songs about Laurie, the unrequited love of Johnstonís life. You get songs about drugs. About premarital sex. About life. And all of this is interspersed with recordings of actual events, notably his mother telling him that heíll never amount to anything. This canít be real, you tell yourself. Itís all so painfully self-deprecating. Why would he include that on an album? But Johnston does. And itís a wonder to listen to--he connects with the insecure teenager that we all once wereóor still are.
Johnston is going through one of the most stable periods of his lifeóand because he is, heís never been busier. There is a documentary being made about him, his art is in galleries, and heís doing tours all over the world. Obviously people still love Daniel and if his new material could match the spirit of his first recordings, he could be bigger thanÖwell, letís not get carried awayÖhe could live up to the hype that used to surround him.